Note: This is the 2015 Website.
---
Small Business Sustainability Briefing hosted by Mid-Tier Advocacy Thursday, September 17, 2015
Invites you to attend the 4th Annual MTA Small Business Sustainability Briefing
"Diversity in Federal Procurement & Sustaining Advanced Small Business"
At The Congressional Black Caucus Foundation's 45th Annual Legislative Conference
To be held at the Walter E. Washington Convention Center
New – Speakers Just Added
U.S. Small Business Administration (SBA)
Jackie Robinson-Burnette, Associate Administrator of Business Development (invited)
 U.S. Department of Energy (DoE)
John Hale, III – Director, Office of Small & Disadvantage Business Utlization (OSDBU)
 U.S. OFfice of Personnel Management (OPM)
Desmond Brown, Director – Office of Small & Disadvantage Business Utilization (OSDBU)
U.S. Department of Homeland Security (DHS)
Dan Sturdivant, Assistant to Director for Outreach/Primary Veteran-owned Small Business Advocate
U.S. Department of Commerce (MBDA)
Angela Washington, Director – Minority Business Development Agency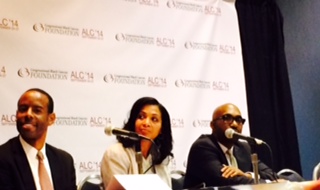 SAVE THE DATE
Thursday, September 17, 2015
 2:00-4:00 PM 
This is a free event –  but seating is limited!
There were more than 300 participants, last year as we examined "How to Grow Your Business in the Federal Market – Contracts, Capital and Managing Risk."  MTA provides the best networking platform for our presenters and attendees to engage on business opportunities. This unique setting will give business owners a chance to connect with Government agencies and private industry. You don't want to miss this popular event! Bring plenty of business cards.
Door Prizes and Light fare!
Branding opportunities are available starting at only $99
Contact us NOW at (202) 421-5100!
Check out our website for more information: www.midtier.org
Visit The Congressional Black Caucus Foundation: www.cbcfinc.org