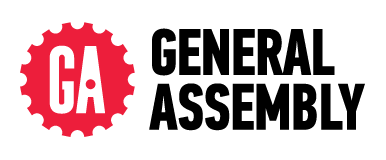 Register Today (Seating is Limited)
The goal of Technoir School Days is to provide valuable educational resources to aspiring technologists and entrepreneurs. In partnership with General Assembly, Events DC, and Ghost Note Agency, is providing 3 paths to tech/startup success. Here's how it works.
Register for Technoir 24 and you'll receive FREE admission to a General Assemb.ly class taught by one of their industry-leading instructors.
The following classes will be offered:
Design Basics – Learn user experience and how to design beautiful digital experiences
Code – Learn basic HTML and how to code a website
Pitch – Starting with a business idea, learn the basics of developing a winning pitch
In addition to FREE class admission, you'll have the opportunity to connect with fellow tech enthusiasts and entrepreneurs. Ultimately, School Days is about building, learning, and making an impact in the tech space.
Also, don't miss Technoir 24: The Innovators Classic pitch competition and afterparty at Capitale!
7pm – 12am (1301 K St NW DC)
– Pitch competition
– Drink specials
– DJ and live music
If you've been to one of our previous events, you know that 500 + of the brightest black minds routinely attend Technoir events. With Events DC as our partner and the Congressional Black Caucus Annual Legislative Conference kicking off at the same time, we're expecting this installment of Technoir to be our biggest yet.
For our latest installment, Technoir 24, we're partnering with Events DC and drawing from the very same spirit of healthy rivalry that is at the heart of AT&T's Nation's Football Classic®. We invite you to join us for a day of programming dedicated to showcasing, funding, and celebrating black brilliance. The day culminates with our signature pitch competition and closing party. The day of events is listed below:
Day on the Hill (9 a.m. – noon) A group of engaged African-American professionals and innovators will take to Capitol Hill to meet with lawmakers.
School Days (11 a.m. – 2 p.m.) Join a series of complimentary workshops hosted by General Assemb.ly covering coding, design and pitching.
Pitch Competition and Afterparty (7 p.m. – midnight)Pitching, music, networking, and drinks!